SHIP2FAIR obtains Mention of Honour in the EnerAgen Awards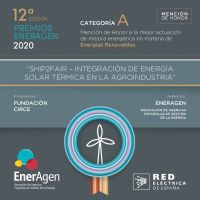 The consortium of SHIP2FAIR is pleased to announce that the project has obtained Mention of Honour in the EnerAgen Awards (ES) in the category of "Best energy improvement performance in the field of Renewable Energies". EnerAgen is the Association of Spanish Agencies for Energy Management. EnerAgen is currently the main instrument for the cooperation and coordination between agencies and public organisms in the field of energy that operate at different territorial levels in Spain.
The Awards
This Association rewards the best national actions of the year in the field of renewable energies, energy efficiency and awareness, at national level. EnerAgen highlights SHIP2FAIR as a distinguished project contributing to the fulfilment of the challenges posed by the energy transition and the climate emergency. Patricia Royo Gutiérrez, Project Manager at CIRCE (SHIP2FAIR coordinator) stated: we are proud to be pushing forward the renewables penetration and to have a valued impact on the scientific and industrial field, and even more so, on society.
The project today
SHIP2FAIR project started in 2018 with the aim of reducing fossil fuel dependence thanks to the integration of solar heat in industrial processes of plants, starting by the agri-food sector. In line with this objective, the project is working on four demo-sites (Bodegas RODA, Martini & Rossi, Açucar RAR and Larnaudie). Bodegas RODA's demo-site is already running, and the consortium is working on the engineering and constructions of the other three demo-sites, which will be all set by the beginning of 2021.
The tools
To ensure the suitable integration of solar thermal technologies in industrial plants and their maximal productivity, SHIP2FAIR project is developing two web-based applications: the Replication tool, to combine the data from the solar generation and the process features in order to provide a first outlook on the SHIP integration within the production plants and to optimise the system according to the user's needs; and the Control Tool, to improve the integration of solar heat into industrial processes at different control levels while aiming to be as flexible as possible to be applied to a multiplicity of systems.
Get involved
SHIP2FAIR is looking for additional sites to improve the Replication Tool (2020-2022).
Interested Industrial plants owners are invited to analyse the possibility to integrate solar thermal technology in their facilities. To know more about SHIP2FAIR proposal the contact persons are:
SHIP2FAIR in bullet points:
A 4-years-EU funded project supported by 15 partners from all over Europe, who aim to:
Develop cost-effective and environmentally friendly solar technologies to integrate solar heat in industrial processes starting by the Agro-food industry
Cover with solar power the 40% of the heat demand from Agro-food industry's processes
Ensure optimal heat integration & tailored control strategies in projects involving Solar Heat Industrial Process/es (SHIP projects)
Deploy 4 user-friendly tools and methods tested in 4 industrial sites to achieve the above points
Carry 10 SHIP feasibility studies in 10 industrial sites beyond the Agro-food sector by 2022
Prepare the technology, business & policy framework to implement 100 SHIP projects by 2027
SHIP2FAIR partners:
BEST, Austria
Bodegas Roda S.A. , Spain
CEA, France's alternative Energies and Atomic Energy Commision, France
CIRCE Foundation (Centre of Research for Energy Resources and Consumption)
Cooperativas Agro-alimentarias de España, U. de Coop., España
EUREC, the Association of Renewable Energy Research Centres, Belgium
EDF, Electricité de France, France
Industrial Solar GmbH, Germany
Links Foundation, Italy
Larnaudie, Figeac, France
Martini & Rossi S.P.A., Italy
RAR, Refinarias de Açùcar Reunidas, S.A., Portugal
Rina consulting S.p.A, Italy
S.O.L.I.D, Gesellschaft für Solarinstallation und Design mbh, Austria
TVP Solar SA, Switzerland
2020-07-03