Sustainable Supply and Value Chains
In this field of expertise we study those aspects of bioenergy involving the entire value chain, from the resource to the final product, and its market.
The value chain starts with the biomass resources, which may originate from agriculture and forestry, waste management or from other sources such as algae biorefineries, for example. These resources are provided in the necessary quality for a variety of facilities such as stoves, boilers, biomass-fired CHP, biofuels production or biogas plants. The different value chains deliver different bioenergy products or services: heat; power; solid, gaseous or liquid fuel; fuel for transportation. In biorefineries also products for non-energy applications can be produced, eg. platform chemicals or bioplastics.
These differing products must be competitive in various markets. To achieve this, it is necessary to consider customer demands and customer behaviour, to carefully study prices and pricing mechanisms, and to analyse and model markets. Moreover, it is necessary to know the relevant regulations and guidelines and to help shape them where possible. The exchange of information with experts and stakeholders, as well as providing tailor-made training opportunities, round off our support
for industry. Bioenergy value chains – that is the entire chain from the resource to the market – are sustainable if they are future-proof. This means that they must be able to compete in all sustainability fields – economically, ecologically and socially – against other products on the market.
In the cross-cutting field of 'sustainable supply and value chains', we cooperate with the three thematic biomass conversion fields (AREA 1, 2 & 3) in order to create sustainable value chains.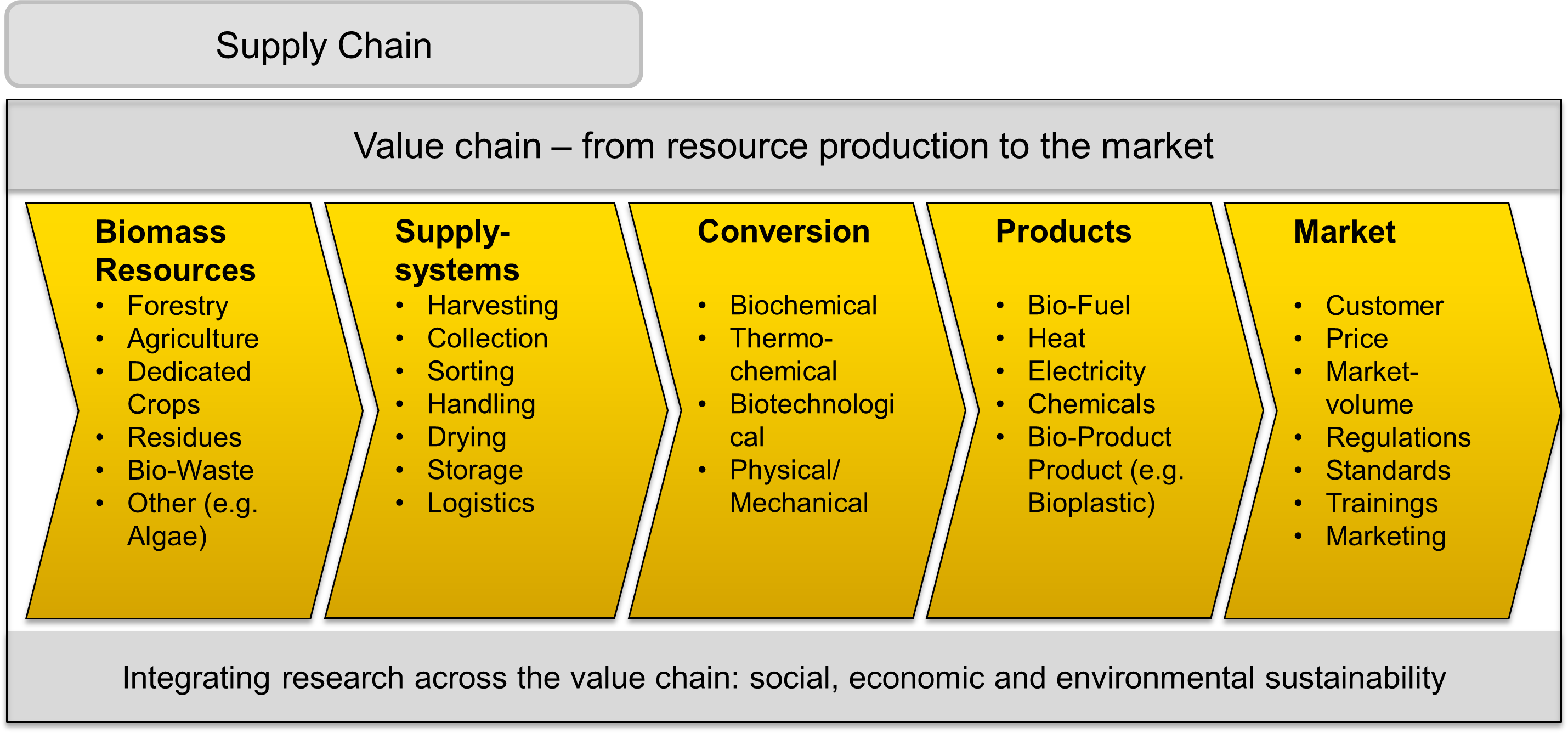 AREA 5.1 performance specifications
• Investigation of biomass resources
Evaluation of potentials, development of logistics and supply chain concepts
• Development and investigation of pretreatment and upgrading technologies
Mechanical: shredding, sorting, pelletisation; Thermal: drying, torrefaction, pyrolysis
• Ecological evaluation
Compilation of greenhouse gas balances up to complete life-cycle assessment (LCA)
• Techno-economic evaluation of biobased value chains
For innovative bioenergy value chains such as those based on torrefied biomass; for alternative utilisation paths in the context of biorefineries such as for bioplastics
• Market analysis
Analysis of bioenergy markets, stakeholder surveys, compilation of market and price models including scenario modelling
• Networking
Networking and information dispersal at the national and international level (e.g. publishing the 'Biobased Future' newsletter, participation in IEA Bioenergy)
• Training and knowledge conveying
Conception and presenting tailor-made training and workshops at a variety of levels for a variety of target audiences